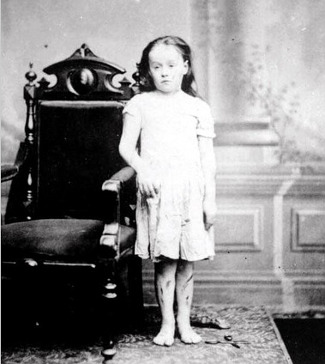 In 1873, Methodist mission worker Etta Angell Wheeler learned that a 9-year-old girl was being confined by her adopted parents in the inner room of a New York tenement, alternately neglected and whipped, and that neither the landlord nor the city would respond to the neighbors' pleas for help.
Wheeler was debating what to do when her niece suggested she appeal to the American Society for the Prevention of Cruelty to Animals, saying, "She is a little animal, surely." Wheeler mastered her fear of "what seemed absurd" and approached the organization's founder, Henry Bergh, who took an immediate interest in the case and within 48 hours had gathered enough evidence to justify the girl's removal.
At a trial at the New York State Supreme Court in 1874, the child, Mary Ellen Wilson, testified:
My father and mother are both dead. I don't know how old I am. I have no recollection of a time when I did not live with the Connollys. Mamma has been in the habit of whipping and beating me almost every day. She used to whip me with a twisted whip — a rawhide. The whip always left a black and blue mark on my body. I have now the black and blue marks on my head which were made by mamma, and also a cut on the left side of my forehead which was made by a pair of scissors. She struck me with the scissors and cut me; I have no recollection of ever having been kissed by any one — have never been kissed by mamma. I have never been taken on my mamma's lap and caressed or petted. I never dared to speak to anybody, because if I did I would get whipped. I do not know for what I was whipped — mamma never said anything to me when she whipped me. I do not want to go back to live with mamma, because she beats me so. I have no recollection ever being on the street in my life.
Her adopted mother, Mary Connolly, was sentenced to a year in jail, and the New York Society for the Prevention of Cruelty to Children was founded the same year.