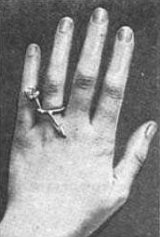 A novelty ring for grass widows is now on the market. It is worn on the same finger as the wedding ring, the design being a broken Cupid's arrow. For those who have the habit, space is provided for jewels, each jewel to signify one divorce.
— Popular Mechanics, April 1922
In 1961 a couple in Oregon could be divorced if one partner could prove that the other had broken the marital contract, for example by committing adultery. If the court found that both spouses were equally at fault, no divorce would be granted.
This was bad news for the Zavins, who accused one another of cruel and inhuman treatment. Indeed, in the words of the Oregon supreme court, "Each party pleaded nearly every variety of cruelty for which descriptive words could be found." But they could not prove their allegations.
The marriage was clearly dead, so some fault must have existed, but without proof the court had to assume equal fault … so it dismissed the case and sent the Zavins back home.
Ten years later Oregon allowed that divorce could be granted when "irreconcilable differences between the parties have caused the irremediable breakdown of the marriage." What became of the Zavins is not recorded.
(Zavin v. Zavin, Supreme Court of Oregon, 1961, 229 Oregon 289, 366 P.2d 733.)