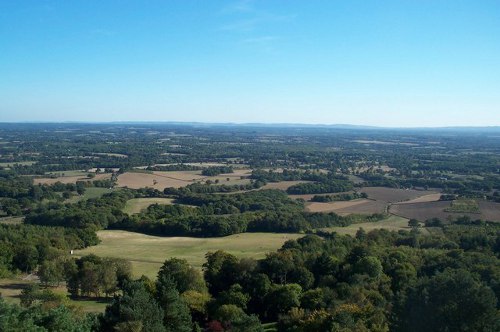 Edwardian journalist Charles Cyril Turner, the world's first modern aviation correspondent, describes a May morning alone in a balloon over Surrey:
Very slowly I approach a big wood. It would better express the situation were I to say that very slowly a big wood comes nearer to the balloon, for there is no sense of movement, and the earth below seems to be moving slowly past a stationary balloon. … Fifteen hundred feet up and almost absolute silence, broken occasionally by the barking of a dog heard very faintly, or by a voice hailing the balloon, and by an occasional friendly creak of the basket and rigging if I move ever so slightly. Then quite suddenly I am aware of something new.

The balloon has come down a little already, and I scatter a few handfuls of sand and await the certain result. But my attention is no longer on that, it is arrested by this new sound which I hear, surely the most wonderful and the sweetest sound heard by mortal ears. It is the combined singing of thousands of birds, of half the kinds which make the English spring so lovely. I do not hear one above the others; all are blended together in a wonderful harmony without change of pitch or tone, yet never wearying the ear. By very close attention I seem to be able at times to pick out an individual song. No doubt at all there are wrens, and chaffinches, and blackbirds, and thrushes, hedge sparrows, warblers, greenfinches, and bullfinches and a score of others, by the hundred; and their singing comes up to me from that ten-acre wood in one sweet volume of heavenly music. There are people who like jazz!
That's from Turner's 1927 memoir The Old Flying Days. Elsewhere he describes approaching the surface of the North Sea far from land: "We could hear the incessant murmur of the commotion of waters as the countless millions of waves and ripples sang together. Surely there is not in nature any sound quite like this, and only in a balloon can it be heard, for by the shore one hears only the turbulent noise of the waters breaking on land, and in any sort of ship the noise of the ship itself makes what to our ears would seem discord."