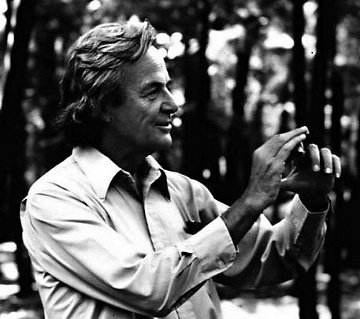 In 1982 Richard Feynman and his friend Tom Van Sant met in Geneva and decided to visit the physics lab at CERN. "There was a giant machine that was going to be rolled into the line of the particle accelerator," Van Sant remembered later. "The machine was maybe the size of a two-story building, on tracks, with lights and bulbs and dials and scaffolds all around, with men climbing all over it.
"Feynman said, 'What experiment is this?'
"The director said, 'Why, this is an experiment to test the charge-change something-or-other under such-and-such circumstances.' But he stopped suddenly, and he said, 'I forgot! This is your theory of charge-change, Dr. Feynman! This is an experiment to demonstrate, if we can, your theory of 15 years ago, called so-and-so.' He was a little embarrassed at having forgotten it.
"Feynman looked at this big machine, and he said, 'How much does this cost?' The man said, 'Thirty-seven million dollars,' or whatever it was.
"And Feynman said, 'You don't trust me?'"
(Quoted in Christopher Sykes, No Ordinary Genius, 1994.)