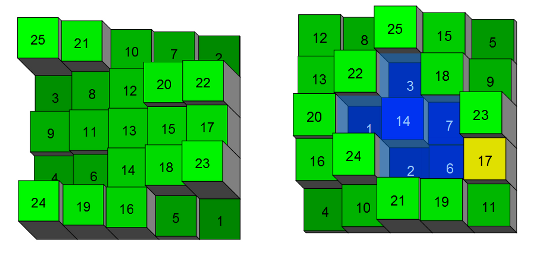 Take an ordinary magic square and imagine that the number in each cell denotes its altitude above some common underlying plane. And now suppose that it begins to rain, with an equal amount of water falling onto each cell. What happens? In the square at left, the water cascades from square 25 down to square 21, and thence down to 10, 7, 2, and into space; because there are no "lowlands" on this landscape, no water is retained. (Water flows orthogonally, not diagonally, and it pours freely over the edges of the square.)
By contrast, in the square on the right a "pond" forms that contains 69 cubic units of water — as it happens, the largest possible pond on a 5×5 square.
With the aid of computers, these imaginary landscapes can be "terraformed" into surprisingly detailed shapes. Craig Knecht, who proposed this area of study in 2007, created this 25×25 square in 2012: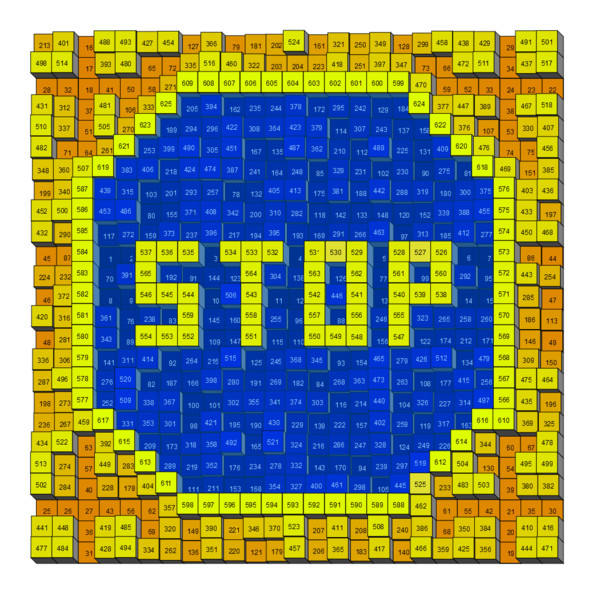 Next year will mark the 500th anniversary of the famously fertile magic square in Albrecht Dürer's 1514 engraving Melancholia — a fact that Knecht has commemorated in the shape of the ponds on the 14×14 square at right.