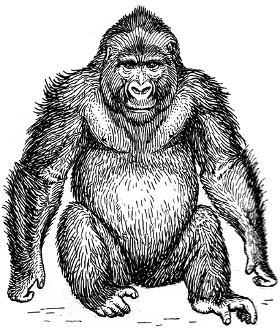 In 1993 Jacques Jouet wrote a love poem in the language of the great apes in the Tarzan novels of Edgar Rice Burroughs:
Zor hoden tanda
Kagoda bolgani
Rak gom tand-panda
Yato kalan mangani
Kreegh-ah yel greeh-ah
Kreegh-ah zu-vo bolgani
Greeh-ah tand-popo
Ubor zee kalan mangani.
Where are you going, gorilla,
In the dark forest?
You run without a sound
Seeking the female ape.
Beware of love
Watch out, gorilla
A lover dies of hunger
Of thirst, of hoping for the leg of the female great ape.
"The great-ape language has the peculiarity of being composed of a lexicon of less than 300 words," Jouet notes. "In the absence of any information, it must be deemed that the syntax is according to the user's preference, as are the pronunciation and prosody."
(From Raymond Queneau's Oulipo Laboratory, 1995.)