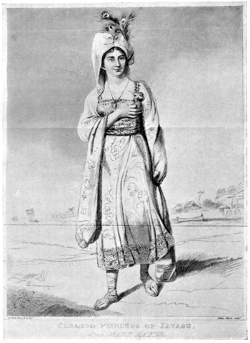 In April 1817 a strange young woman appeared in Almondsbury in Gloucestershire. She was 5 foot 2, with black hair and eyes, and wore a black shawl twisted like a turban around her head and a black dress with a muslin frill. She presented herself at a cottage in the village and pointed to the couch. The cottager, struck that she did not seem to understand him, summoned help, and she was sent to the county magistrate.
The woman spoke an unfamiliar tongue and looked blankly at those who spoke English. At first she sought to sleep on the floor, apparently not understanding what beds were for. The next morning the parish clergyman showed her a series of books and divined that she had come from China aboard a ship. She seemed to call herself Caraboo.
In the weeks that followed she taught her new friends the strange language that she spoke and wrote, and through it gave her story: She was a princess from an island named Javasu, and had been captured by pirates while walking in her garden. The pirates had sold her to the captain of a brig in exchange for a sack of gold dust. After some ill treatment, she jumped overboard and swam to the nearest shore, which happened to be England.
Throughout this time Caraboo exhibited strange behavior, wandering abroad with a gong, a tambourine, and a bow and arrow. She climbed trees dextrously and swam like a fish; she fenced capably and danced a peculiar sort of waltz.
Eventually a local scientist named Wilkinson published several letters in the Bath Chronicle hoping that someone might recognize a description of the strange woman. A woman named Mrs. Neale responded, and the truth came out. Princess Caraboo was Mary Baker, the daughter of a cobbler in Devonshire. She had wanted five pounds to pay passage to Philadephia on an emigrant ship, and had decided to beg for it while posing as a foreigner.
The magistrate's wife forgave her and paid for her passage. She returned seven years later and tried to earn a living by exhibiting herself in her old guise, but few people came. She ended her days selling leeches in Bristol drugstores.