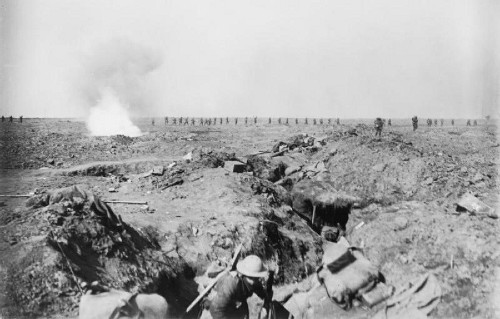 What was it like to be shelled in World War I? Here's one description, from German officer Ernst Jünger's 1920 memoir Storm of Steel:
It's an easier matter to describe these sounds than to endure them, because one cannot but associate every single sound of flying steel with the idea of death, and so I huddled in my hole in the ground with my hand in front of my face, imagining all the possible variants of being hit. I think I have found a comparison that captures the situation in which I and all the other soldiers who took part in this war so often found ourselves: you must imagine you are securely tied to a post, being menaced by a man swinging a heavy hammer. Now the hammer has been taken back over his head, ready to be swung, now it's cleaving the air towards you, on the point of touching your skull, then it's struck the post, and the splinters are flying — that's what it's like to experience heavy shelling in an exposed position.
And several more, collected in Arnold D. Harvey's A Muse of Fire: Literature, Art and War (1998):
For the civilians herded into the ranks the sounds of shell and bullet were strange and unexpected as well as frightening and called out for description. At close quarters an artillery barrage sounded 'as though the earth were cracking up like an egg of super-gigantic proportions tapped by a gargantuan spoon': it created, according to the same witness, 'A veritable crescendo of sounds, so continuous as to merge and blend into a single annihilating roar, the roar of a train in a tunnel magnified a millionfold: only the rattle of the machine-gun barrage, like clocks gone mad, ticking out the end of time in a final breathless reckoning, rises above it'. At a greater distance it was 'like someone kicking footballs — a soft bumping, miles away', or a noise, felt rather than heard 'like the beating of one's heart after running'. A German infantry officer recalled, 'If you put your hands over your ears and then drum your fingers vigorously on the back of your head, then you get some idea of what the drumfire sounded like to us'.
"The sound of an approaching shell, it was claimed, 'can be imitated by a suitable rendering of the sentences, "Who are you? I am (these words being drawn out to full length) — (a slight pause) — Krupp (very short and sharp!)."'"
(Thanks, Ross.)