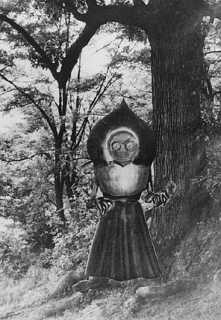 On Sept. 12, 1952, three West Virginia boys saw a floating reddish sphere drop behind a hill, where it emitted a steady glow. As they went to investigate, they were joined by a local beautician and three other boys.
A dog ran ahead of the group, barked furiously at something, and fled with its tail between its legs. The first boys to reach the site saw a "big ball of fire" among a foul-smelling mist to their right. To their left were two points of light. When one boy turned his flashlight on them, the group saw a grotesque, armless creature with a head shaped like the "ace of spades," with a circular window through which two pale blue beams of light played.
The creature, which was more than 6 feet tall, glided toward the group at first, then turned toward the glowing ball as the group fled. When a reporter from the Braxton Democrat arrived at the scene, he noticed an unusual odor in the grass that irritated his nose and throat.
No one knows what the group saw that night, but the most likely explanation seems to be a meteor and a startled barn owl. Flatwoods held a "monster festival" in September 2002, on the 50th anniversary of the event; the alien, if that's what it was, failed to attend.