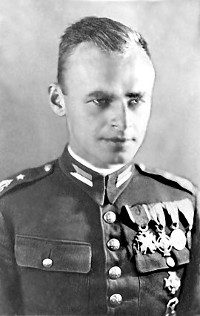 As World War II engulfed Europe, the Allies learned of German atrocities at the Auschwitz concentration camp from a remarkable source: A Polish army captain named Witold Pilecki had volunteered to enter the camp in 1940 in order to gather intelligence and to organize its prisoners.
Using a false identity card, Pilecki let himself be captured during a Warsaw roundup and became inmate 4859 at Auschwitz. Over the next two years, as he witnessed the horrors unfolding there, Pilecki prepared the camp's inmates for an uprising, distributed extra food, and even built a secret radio transmitter to communicate his findings, urging his superiors to attack and liberate the camp. His reports, which made their way to London, at first provoked disbelief:
"Sometimes a group of civilians who had been tortured and interrogated in the cellars and who had now been handed over to [SS officer Gerhard] Palitzsch for some fun would be led out. Palitzsch would order the girls to undress and run in a circle around the enclosed yard. Standing in the middle of the yard he would take his time picking a victim, then he would aim, shoot and kill them all one by one. None of them knew who would die next, or who would live for a few more moments, or who might be taken back for further interrogation. He — improved his aim."
Another SS man, named Klehr, would kill prisoners with an injection of phenol directly into the heart. "One day, after taking care of everyone in the queue for an injection, he entered as usual the toilet where the dying häftlings were dumped to admire his handiwork for the day, when one of the 'corpses' came to life (there must have been an error and he had received too little phenol), stood up and started to stagger over the other corpses like a drunk towards Klehr saying: 'Du hast mir zu wenig gegeben, gib mir noch etwas!' ['You didn't give me enough, let me have a little more!'] Klehr went white, but not panicking, rushed at him — the executioner's apparently cultured mask slipping — pulled out his pistol and without shooting, not wishing to make a noise, he finished off his victim by hitting him over the head with the butt."
"What can humankind say now — that very humankind which wants to demonstrate cultural and personal progress and rank the 20th century much higher than centuries past?" Pilecki wrote. "Can we from the 20th century look our ancestors in the eye and … laughably … prove that we have attained a higher cultural plane?"
The hoped-for attack never came, and Pilecki finally escaped the camp in 1943, after 945 days. He went on to participate in the Warsaw Uprising, but in 1947 he was arrested by the Stalinist secret police, accused of spying, and executed. His final resting place is unknown. Poland's communist regime suppressed his story until 1989, and his Auschwitz report was not published until 2000. But today he is regarded as a heroic figure in Poland — in 2006 he received the Order of the White Eagle, his country's highest decoration.