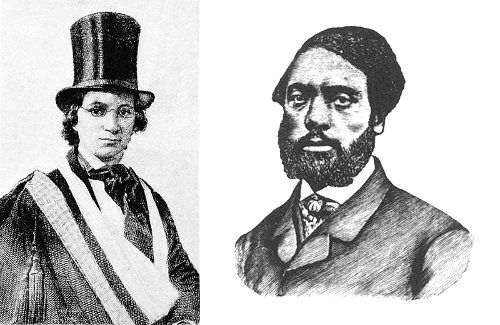 In 1848, Ellen and William Craft resolved to flee slavery, but they needed a way to get from Macon, Ga., to the free states in the north. William could never travel such a distance alone, but Ellen's skin was fair enough that she could pass for white. So she disguised herself as a white male cotton planter attended by William, her slave. (She had to pose as a man because a white woman would not have traveled alone with a male slave.) The two asked leave to be away for the holidays, the illiterate Ellen bound her arm in a sling to escape being asked to write, and they departed on Dec. 21. Over the next four days:
Ellen found herself sitting next to a friend of her master on the train to Savannah. She feigned deafness to discourage his attempts to engage her in conversation.
The captain of a steamer to Charleston complimented Ellen on her "very attentive boy" and warned him to shun the "cutthroat abolitionists" in the north.
During the voyage a slave trader offered to buy William, and a military officer scolded Ellen for saying "thank you" to her slave.
In South Carolina a ticket seller insisted on seeing proof that Ellen owned William. A passing captain intervened and sent them on their way.
In a Virginia railway station a white woman confronted William, mistaking him for her own runaway slave.
An officer in Baltimore threatened again to detain them without proof of ownership, but relented, telling a clerk, "He is not well, it is a pity to stop him."
On Dec. 25, after a journey of more than 800 miles, they arrived in Philadelphia:
On leaving the station, my master — or rather my wife, as I may now say — who had from the commencement of the journey borne up in a manner that much surprised us both, grasped me by the hand, and said, 'Thank God, William, we are safe!' then burst into tears, leant upon me, and wept like a child. The reaction was fearful. So when we reached the house, she was in reality so weak and faint that she could scarcely stand alone. However, I got her into the apartments that were pointed out, and there we knelt down, on this Sabbath, and Christmas-day, — a day that will ever be memorable to us, — and poured out our heartfelt gratitude to God, for his goodness in enabling us to overcome so many perilous difficulties, in escaping out of the jaws of the wicked.
The Crafts went on a speaking tour of New England to share their story with abolitionists, then moved to England to evade recapture under the Fugitive Slave Act. They returned only in 1868, when they established a school in Georgia for newly freed slaves.