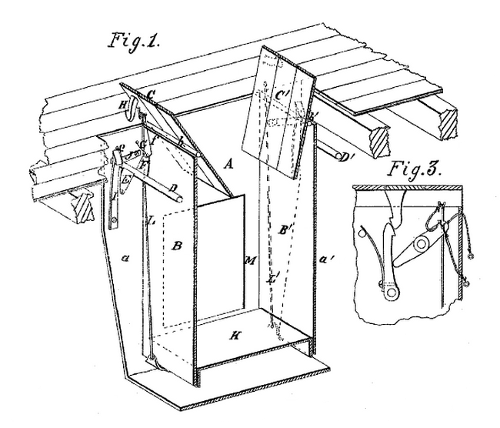 William Carr's "improved burglar-trap," patented in 1868, is a man-size version of a no-kill mousetrap. The unwitting burglar steps on the trapdoor and falls into the chamber, where his own weight on the false bottom pulls the doors shut again.
"It will be seen that the catches II II' and I I act, in connection with the weight of the person upon the platform, in retaining the doors in their closed condition, and, even in case the prisoner should succeed in scaling the walls of the chamber, the locking-devices H H' and I I' will effectually prevent him forcing open the trap-doors."
During the day the proprietor can pull a cord to engage the catches by hand, to prevent his customers from falling in themselves.