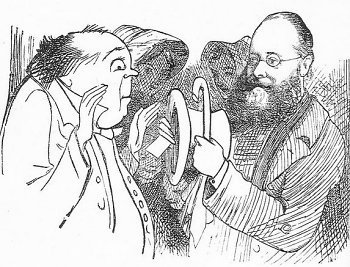 Edward Lear once overheard a gentleman in a railway station saying that his children had been reading the Book of Nonsense. He maintained that Edward Lear did not exist, and said that Lord Derby had written the book.
Says I, joining spontaneous in the conversation — 'That is quite a mistake: I have reason to know that Edward Lear the painter and author wrote and illustrated the whole book.' 'And I,' says the Gentleman, says he, — 'have good reason to know, Sir, that you are wholly mistaken. There is no such person as Edward Lear.' 'But,' says I, 'there is — and I am the man — I wrote the book!' Whereupon all the party burst out laughing and evidently thought me mad or telling fibs. So I took off my hat and showed it, with Edward Lear and the address in large letters — also one of my cards, and a marked handkerchief: on which amazement devoured those benighted individuals and I left them to gnash their teeth in trouble and tumult.
Related: In October 1812, Trinity and St. John's Colleges, Cambridge, ordered that students appearing in hall or chapel in pantaloons or trousers should be considered absent.