In 1896 the U.S. Treasury introduced some beautifully high-minded currency — instead of American presidents, the "educational series" of silver certificates bear neoclassical allegories: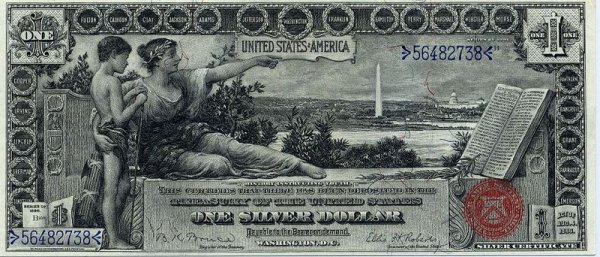 On the $1 note, the Goddess of History instructs a youth, pointing to the U.S. Constitution, a panorama of Washington D.C., and a roster of famous Americans, including Franklin, Longfellow, Hawthorne, and Emerson.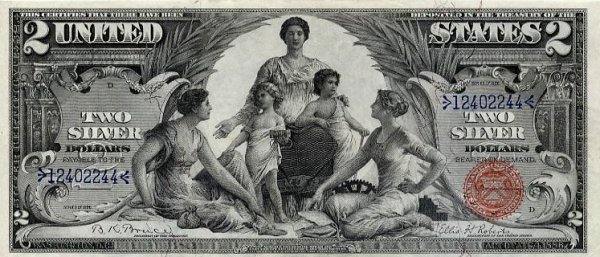 On the $2 note, Science presents Steam and Electricity (as children) to Commerce and Manufacture. The back bears portraits of Robert Fulton and Samuel Morse.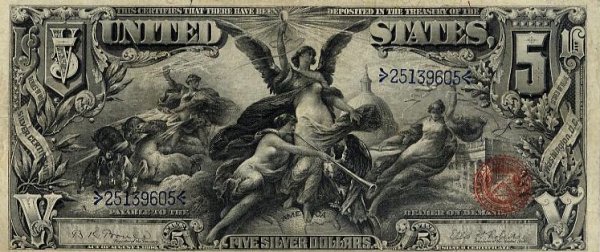 The almost impossibly glorious $5 note depicts Electricity Presenting Light to the World. She is flanked by Strength, Fame, and Peace. The New York Times wrote, "The arrangement of this composition, the grace of pose in each figure, and the idea connected with the designs of this artist entitle it to a place beside the finest allegorical designs in the world."
Unfortunately, the Treasury got a new secretary the following year, one who favored simple, clear designs, and he canceled more than $54 million in certificates as they came into the Treasury. "It can be said authoritatively … that no more of the so-called 'new certificates' will be printed," the Times reported sadly in May 1897. "Neither will fresco painters be called in to make designs for the substitutes."
(Thanks, Stephenson.)