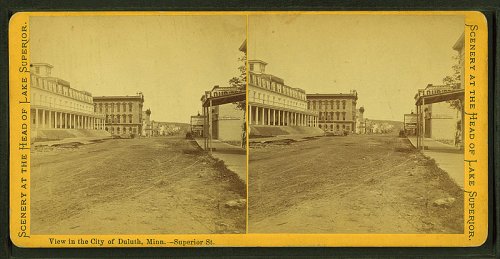 In 1871 the House of Representatives was considering subsidizing railroads to serve the Midwest, including tiny Duluth, Minn. Kentucky representative J. Proctor Knott rose, produced a bucket of sarcasm, and began ladling:
Duluth! The word fell upon my ear with peculiar and indescribable charm, like the gentle murmur of a low fountain stealing forth in the midst of roses, or the soft, sweet accents of an angel's whisper, in the bright joyous dream of sleeping innocence. Duluth: 'Twas the name for which my soul had panted for years, as the hart panteth for water-brooks. But where was Duluth? Never, in all my limited reading, had my vision been gladdened by seeing the celestial word in print. And I felt a profounder humiliation in my ignorance, that its dulcet syllables had never before ravished my delighted ear. …

Nevertheless, I was confident it existed somewhere, and that its discovery would constitute the crowning glory of the present century, if not of all modern times. I knew it was bound to exist in the very nature of things; that the symmetry and perfection of our planetary system would be incomplete without it, that the elements of material nature would long since have resolved themselves back into original chaos if there had been such a hiatus in creation as would have resulted from leaving out Duluth.

In fact, sir, I was overwhelmed with the conviction that Duluth not only existed somewhere, but that wherever it was, it was a great and a glorious place. I was convinced that the greatest calamity that ever befell the benighted nations of the ancient world was in their having passed away without a knowledge of the actual existence of Duluth; that their fabled Atlantis, never seen save by the hallowed vision of inspired poesy, was in fact but another name for Duluth; that the golden orchard of the Hesperides was but a poetical synonym for the beer gardens in the vicinity of Duluth.

I was certain that Herodotus had died a miserable death because in all his travels and with all his geographical research he had never heard of Duluth. I knew that if the immortal spirit of Homer could look down from another heaven than that created by his own celestial genius upon the long lines of pilgrims from every nation of the earth to the gushing fountain of poesy opened by the touch of his magic wand, if he could be permitted to behold the vast assemblage of grand and glorious productions of the lyric art called into being by his own inspired strains, he would weep tears of bitter anguish that instead of lavishing all the stories of his mighty genius upon the fall of Troy it had not been his more blessed lot to crystallize in deathless song the rising glories of Duluth.

Yet, sir, had it not been for this map, kindly furnished me by the Legislature of Minnesota, I might have gone down to my obscure and humble grave in an agony of despair, because I could nowhere find Duluth. Had such been my melancholy fate, I have no doubt that with the last feeble pulsation of my breaking heart, with the last faint exhalation of my fleeting breath I should have whispered, 'Where is Duluth?'
The bill was defeated. See American Notes.