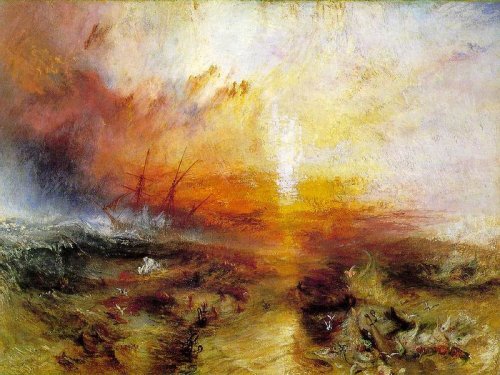 noyade
n. a mass execution by drowning
conclamant
adj. crying out together
commorient
adj. dying together or at the same time
J.M.W. Turner's 1840 painting The Slave Ship recalls a brutal convention in the Atlantic slave trade — an insurance company would reimburse a captain for a slave who was lost at sea, but not for one who died of illness aboard ship. In 1781 Luke Collingwood, captain of the Zong, threw 133 sick and malnourished Africans overboard so that he could claim their value from his insurers. Turner displayed the painting next to lines from his own poem:
Aloft all hands, strike the top-masts and belay;
Yon angry setting sun and fierce-edged clouds
Declare the Typhon's coming.
Before it sweeps your decks, throw overboard
The dead and dying — ne'er heed their chains
Hope, Hope, fallacious Hope!
Where is thy market now?
Britain had already outlawed its own slave trade when the painting appeared, but its impact encouraged the empire to oppose the institution everywhere.