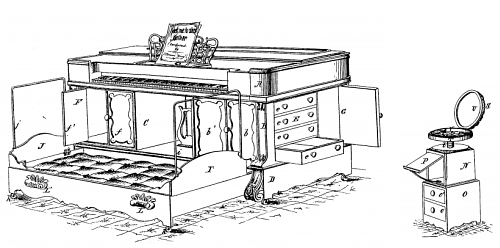 Charles Hess patented this combination piano, couch, and bureau in 1866, intending it for hotels and boarding schools in which some bedrooms are used as parlors during daylight hours. Closet F holds the bedclothes, and closet G holds a washbowl, pitcher, and towels.
"It has been found by actual use that this addition to a piano-forte does not in the least impair its qualities as a musical instrument, but, on the contrary, adds considerably to its reverberatory power."
Charmingly, the stool doubles as a writing desk (P), its seat conceals a looking glass (U), and its body serves as a lady's work box, complete with a cushion for holding pins and needles.