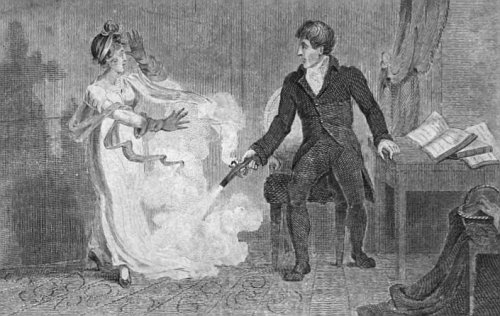 In 1769, inspired by Rousseau's Émile, British author Thomas Day set out to train the perfect wife. He adopted foundlings of 11 and 12 years old, named them Sabrina and Lucretia, and took them to France, where he tried to rear them in isolation.
This went well at first — under Day's direction, Sabrina wrote to one of his friends: "I love Mr. Day dearly and Lucretia. I am learning to write. … I hope I shall have more sense against I come to England. I know the cause of night and day, winter and summer. I love Mr. Day best in the world, Mr. Bicknell next, and you next."
But it fell apart within 18 months. When the girls began to quarrel and tease him, he returned to England, placed Lucretia with a chamber milliner, and concentrated on Sabrina. But she screamed when he fired pistols at her petticoats (trying, at Rousseau's suggestion, to accustom her to "détonations les plus terribles"), and she winced unheroically when he dropped sealing wax on her arms. Finally he released her to a boarding school, where in time she grew up to be "an elegant and amiable woman."
In 1780, Day finally did find a wife who "often wept but never repined" at his "frequent experiments upon her temper and attachment." But even that didn't last — he died, ironically, while trying to break a horse.