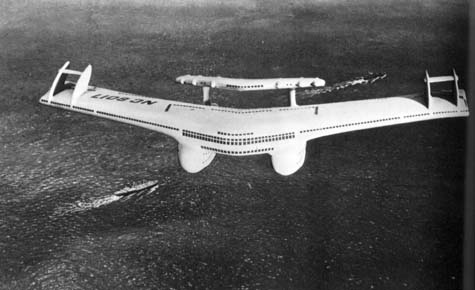 Norman Bel Geddes announced big plans in 1932: Air Liner Number 4, a gigantic V-winged flying boat with a wingspan of 528 feet, more than twice that of today's 777. Twenty 1900-horsepower engines would carry it through the air at 100 mph and an altitude of only 5,000 feet while 451 passengers ranged over nine decks containing 180 apartments, three kitchens, three private dining rooms, an orchestra platform, a gym, six shuffleboard courts, a dance floor, a library, separate solaria for men and women, a writing room, and a promenade deck. The 155-person crew included two telephone operators, 24 waiters, two masseuses, a manicurist, and a gymnast.
The plane was "not 'big' for the sake of being big," Bel Geddes insisted, but he pointed out that
if it were possible to stand her upon one wing tip against the Washington Monument, she would lack only 23 feet of reaching the top. Or imagine that the Public Library was removed from its site in Bryant Park at Forty-second Street and Fifth Avenue, New York. The plane could then settle comfortably in the park with a clearance of about 35 feet all around.
The craft had a range of 7,500 miles, and it would be supported on the water by two enormous pontoons, 60 feet high and designed "substantially as the hull of a yacht, in order to withstand tremendous pounding when the plane rests on a rough sea." In the end it was never built, but it may have helped inspire Howard Hughes' "Spruce Goose."