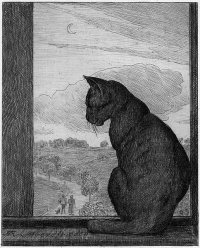 I don't know what to make of this — on Sept. 7, 1950, the London Times reported that a 10-month-old kitten had climbed the Matterhorn.
The story, "from our correspondent," claims that the black-and-white kitten lived in the Hotel Belvedere at 10,820 feet, where he would watch departing alpinists as they left for the summit. One morning, apparently, he decided to follow them. "After a long and lonely climb" he reached the Solway hut at 12,556 feet, and the next day "bivouacked in a couloir above the shoulder." A climbing party passed him on the third day, and he caught them up at the summit (14,780 feet), "miauing and tail up," and was rewarded with a share of their meal. He was carried back down in a rucksack.
This is all reported very earnestly, and there's even a photograph of the cat, but I can't find a corroborating account anywhere. Both The Canadian Nurse and The Veterinary Record picked up the story, but they both credit the Times. The Guinness Book of World Records cited the cat for its feat, but presumably they're relying on the same account.
Is this preposterous? Do I overestimate the Matterhorn? Do I underestimate kittens? Can anyone shed any light on this?