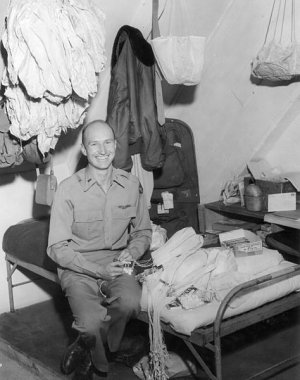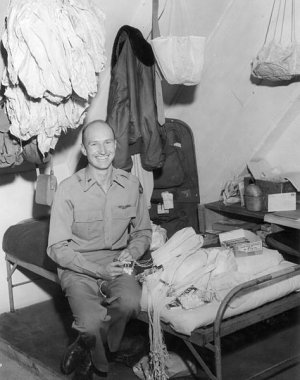 In July 1948, 27-year-old Air Force lieutenant Gail Halvorsen was flying food and supplies into West Berlin, which was blockaded by the Soviet Union. One night he encountered a group of hungry children who had gathered near the runway to watch the planes land.
"They could speak a little English," he recalled later. "Their clothes were patched and they hadn't had gum and candy for two or three years. They barely had enough to eat."
Halvorsen gave them two sticks of gum and promised to drop more candy for them the next day from his C-54. He said he'd rock his wings so that they could distinguish him from the other planes. Then he returned to the base and spent the night tying bundles of candy to handkerchief parachutes.
Over the next three days he dropped candy to growing crowds of West German children. He had wanted to keep the project secret ("It seemed like something you weren't supposed to do"), but when a newsman snapped a photograph Halvorsen began receiving boxes of candy from all over the United States, many with parachutes already attached. Halvorsen went home in February 1949, and the blockade was lifted three months later.
In 1998, when Halvorsen returned to Berlin, a "dignified, well-dressed man of 60 years" approached him. He said, "Fifty years ago I was a boy of 10 on my way to school. The clouds were very low with light rain. I could hear the planes landing though I couldn't see them. Suddenly out of the mist came a parachute with a fresh Hershey chocolate bar from America. It landed right at my feet. I knew it was happening but couldn't believe it was for me. It took me a week to eat that candy bar. I hid it day and night. The chocolate was wonderful but it wasn't the chocolate that was most important. What it meant was that someone in America knew I was here, in trouble and needed help. Someone in America cared. That parachute was something more important than candy. It represented hope. Hope that some day we would be free."