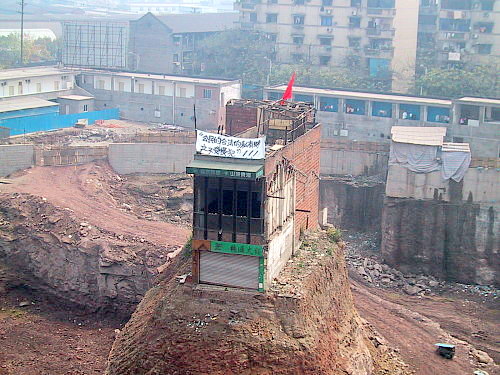 When developers planned a shopping mall in the southwestern Chinese municipality of Chongqing in 2004, they quickly bought out 280 local homeowners in order to clear the necessary land. They didn't count on 49-year-old Wu Ping and her husband, Yang Wu, who declined to leave and clung to their two-story brick house even as the developers excavated the land around it and allegedly sent thugs to intimidate them.
The case became a symbol of the struggle between homeowners and property developers as China's farmland gives way to office buildings and industrial parks. "I'm not stubborn or unruly," Wu told the state-run Legal Daily. "I'm just trying to protect my personal rights as a citizen."
Even after electricity and water were cut, Yang cut a makeshift stairway up from the 10-meter pit that surrounded the house and hung a Chinese flag from its roof. He guarded the edifice while Wu conducted press conferences and sent him food, water, and quilts using a rope and pulleys. When the couple turned down compensation offers, the Chongqing housing authority called their demands "unreasonable" and ordered the house demolished. But in the face of 85 percent public support for Wu and Yang, a local court declined to enforce the order.
Finally, after three years, China passed a landmark law protecting private property and the couple accepted an apartment of similar size downtown. "Let's hope the new law reduces such disputes," political scientist Zhao Wanyi told China Daily.