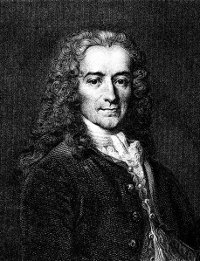 In 1728 the city of Paris defaulted on a large number of municipal bonds. As a way to offer some restitution, the city decided to sponsor a series of lotteries among the disappointed bondholders. There would be only a few winners, but each investor could at least hope to recoup some of his lost money.
That's very noble, but the city fathers had overlooked two things. First, because the government had sweetened the pot, the value of the lottery prize vastly exceeded the combined cost of the tickets. And second, among the bondholders were Voltaire and Charles Marie de La Condamine, who realized this.
The two organized a syndicate to buy up all of their fellow bondholders' tickets, essentially guaranteeing themselves a huge profit each month. They did this systematically for half a year before the government caught on; when confronted, they pointed out that they were doing nothing illegal. In all, the syndicate realized 6 to 7 million francs, of which Voltaire kept half a million — enough to leave him independently wealthy for the rest of his life.