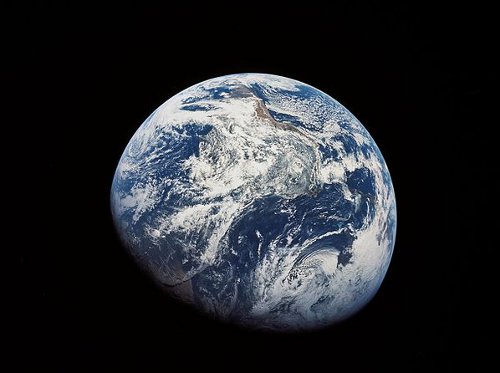 Excerpts from One Hundred Proofs That the Earth Is Not a Globe, a pamphlet distributed by William Carpenter in 1885:
"If the Earth were a globe, rolling and dashing through 'space' at the rate of 'a hundred miles in five seconds of time,' the waters of seas and oceans could not, by any known law, be kept on its surface — the assertion that they could be retained under these circumstances being an outrage upon human understanding and credulity."
"Astronomers tell us that, in consequence of the Earth's 'rotundity,' the perpendicular walls of buildings are, nowhere, parallel, and that even the walls of houses on opposite sides of a street are not! But, since all observation fails to find any evidence of this want of parallelism which theory demands, the idea must be renounced as being absurd and in opposition to all well-known facts."
"If we examine a true picture of the distant horizon, or the thing itself, we shall find that it coincides exactly with a perfectly straight and level line."
"The Newtonian theory of astronomy requires that the Moon 'borrow' her light from the Sun. Now, since the Sun's rays are hot and the Moon's light sends with it no heat at all, it follows that the Sun and Moon are 'two great lights,' as we somewhere read, [and] that the Newtonian theory is a mistake."
"If a projectile be fired from a rapidly moving body in an opposite direction to that in which the body is going, it will fall short of the distance at which it would reach the ground if fired in the direction of motion. Now, since the Earth is said to move at the rate of nineteen miles in a second of time, 'from west to east,' it would make all the difference imaginable if the gun were fired in an opposite direction. But … there is not the slightest difference, whichever way the thing may be done."
Staunch flat-earther Wilbur Glenn Voliva (1870-1942) asked: "Where is the man who believes he can jump into the air, remaining off the earth one second, and come down to earth 193.7 miles from where he jumped up?" Hard to argue with that.