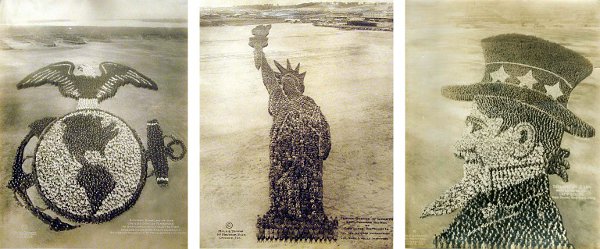 In 1918, photographer Arthur Mole engaged the nation's military in a series of "living photographs." After arranging cloth strips on a parade ground, he'd mount a 70-foot tower and shout orders through a megaphone, arranging thousands of men into formations that assumed patriotic shapes when viewed from the camera's perspective. Shown here:
The Marine emblem, formed by 100 officers and 9,000 enlisted men at the Marine barracks in Parris Island, S.C.
The Statue of Liberty, 18,000 men, Camp Dodge, Iowa
Uncle Sam, 19,000 officers and men, Camp Lee, Va.
Woodrow Wilson, formed by 21,000 soldiers at Camp Sherman in Chillicothe, Ohio
The U.S. shield, 30,000 officers and men, Camp Custer, Battle Creek, Mich.
According to a 1971 feature in Life, the men's only compensation was "the base pay for the day, about $1, and the unique opportunity to write a letter home that began, 'Dear Mom, today I was part of President Wilson's left eyebrow.'"