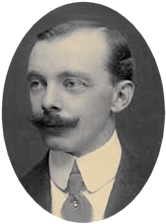 Harry Graham (1874–1936) led a successful military career and worked as a journalist and lyricist, but he's best remembered for what might be called "dark light verse":
Tender-Heartedness
Little Willie, in the best of sashes,
Fell in the fire and was burned to ashes.
By and by the room grew chilly,
But no one liked to poke up Willie.
Aunt Eliza
In the drinking-well
(Which the plumber built her)
Aunt Eliza fell–
We must buy a filter.
Waste
I had written to Aunt Maud,
Who was on a trip abroad,
When I heard she'd died of cramp
Just too late to save the stamp.
Indifference
When Grandmamma fell off the boat,
And couldn't swim (and wouldn't float),
Matilda just stood by and smiled.
I almost could have slapped the child.
Compensation
Weep not for little Léonie,
Abducted by a French Marquis!
Though loss of honour was a wrench,
Just think how it's improved her French.
Mr. Jones
"There's been an accident," they said,
"Your servant's cut in half; he's dead!"
"Indeed!" said Mr. Jones, "and please
Send me the half that's got my keys."
He wrote in one preface:
Fond parent, you whose children are
Of tender age (from two to eight),
Pray keep this little volume far
From reach of such, and relegate
My verses to an upper shelf,–
Where you may study them yourself.