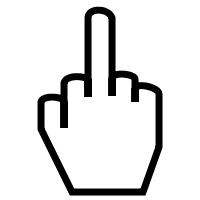 The sign for brother in Taiwanese Sign Language is an extended middle finger.
In 1967 University of Chicago linguist Jim McCawley proposed that fuck, when used as an epithet, as in Fuck you, is not a verb, because it accepts none of the adjuncts of a normal sentence:
I said to fuck you.
Don't fuck you.
Do fuck you.
Please fuck you.
Fuck you, won't you?
Go fuck you.
Fuck you or I'll take away your teddy bear.
Fuck you and I'll give you a dollar.
Also, Fuck you "has neither declarative nor interrogative nor imperative meaning; one can neither deny nor answer nor comply with such an utterance."
What is it, then? McCawley proposed "quasi-verb," a new category that can be followed by a noun phrase.
The full paper is here; the journal Language credits it with being the first satirical linguistics paper.