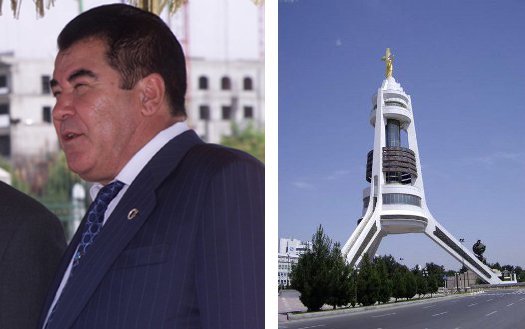 When Saparmurat Niyazov became president of Turkmenistan, he commissioned a 12-meter gold-plated statue of himself that rotated always to face the sun. That was actually one of his more modest decrees. Others:
He had his parliament officially name him Turkmenbashi, "father of all Turkmens."
He named streets, schools, airports, farms, and people after himself, as well as vodka, a meteorite, the country's second largest city, and a television channel.
He banned the Hippocratic oath and demanded that doctors swear allegiance to him.
His autobiography, the Rukhnama ("book of souls"), was studied in schools and became a textbook in other subjects, such as history and geography. Libraries, now superfluous, were closed.
Gold-plated statues to him were erected throughout the country.
He banned ballet, opera, public smoking, lip syncing, beards, gold teeth, recorded music, health care in rural areas, and car radios.
He planned the construction of a "palace of ice" and penguin enclosure so that residents of the desert could learn to skate.
He decreed that the word old must not be applied to people — when one turns 61 he enters "the prophetic age," and 73 marks "the inspired age."
He applied the name Gurbansoltan Edzhe ("the Turkmen heroine") to his mother, a women's magazine, the year 2003, April, and bread.
"I'm personally against seeing my pictures and statues in the streets," he said, "but it's what the people want."