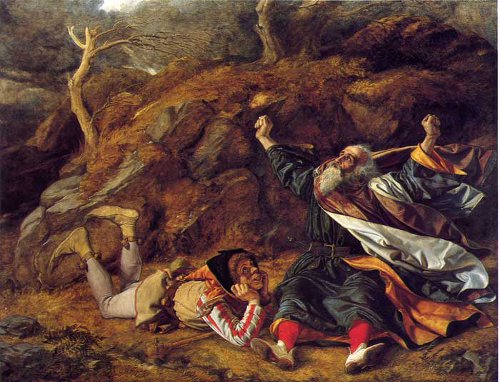 GONERIL/REGAN: Pop's tops!
LEAR: True Cordelia?
CORDELIA: Oh, Dad!
LEAR: I banish you!
KENT: Gad!
LEAR: Vanish!
FOOL: Mad!
Believe me, these sisters
Deceive you.
LEAR: The twisters!
GLOUCESTER: And my boy's a bastard.
EDMUND: Too bad.
EDGAR: I'm disguised. Tom's a fruitcake.
LEAR: Me too!
GONERIL/REGAN: Prise those eyes out.
GLOUCESTER: I'm blinded! Boo-hoo!
EDMUND: I fix my own odds.
GLOUCESTER: The gods are such sods.
EDGAR: No they're not. Jump! All right!
GLOUCESTER: And that's true.
REGAN: My hubby's just snuffed it. To bed!
EDMUND: My lady?
GONERIL: He's mine!
ALBANY: You're still wed.
LEAR: The law is an ass;
Forgive me, my lass.
CORDELIA: Of course!
REGAN: Ugh!
GONERIL: Agh!
EDMUND: Oogh!
ALBANY: They're all dead!
Good old gods! Three cheers!
KENT: I feel queer!
LEAR: She's dead. Howl. Fool. Gurgle.
ALBANY: Oh dear!
KENT: He's dead and I'm dying.
EDGAR: It's time to start crying;
I'm king. That's your lot. Shed a tear.
— Bill Greenwell
See GRKTRGDY.