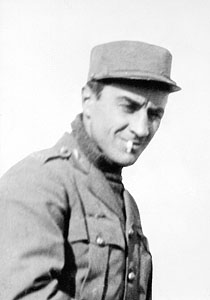 This is James Norman Hall. He co-wrote Mutiny on the Bounty, operated a machine gun for the Royal Fusiliers, flew with the Lafayette Escadrille, and spent months as a German POW.
And he wrote the poetry of a 9-year-old girl.
Literally. In 1938 a girl came to Hall in a troubled dream and began dictating poems to him about life in his childhood home of Colfax, Iowa. "She told me things about people in our hometown that I had completely forgotten, or thought I had."
He typed them up and published them under the title Oh, Millersville!, claiming they were the rediscovered work of a turn-of-the-century Iowa farmgirl named Fern Gravel:
Oh, it is wonderful in Millersville
On many a winter night,
When the ground is covered with snow
And the moon is shining so bright.
You can hear the sleigh-bells jingling
Everywhere around.
I don't think there could be
A more beautiful sound.
Keats it ain't, but its homely charm brought writeups in the New York Times and the Philadelphia Inquirer. Hall let six years elapse before he published a confession in the Atlantic Monthly, explaining that he'd been ruminating on the evils of industrialization when the girl's voice had entered his thoughts. The voice, it seemed, remained: Hall wrote a dozen more books and moved to Tahiti, but in his autobiography he wrote that "Iowa, for all the years I have been away from it, has always been, and still is, home for me."