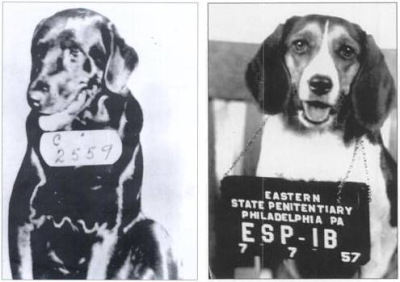 Philadelphia's Eastern State Penitentiary got an unusual inmate in 1924: "Pep the cat-murdering dog," a black Labrador retriever who was allegedly incarcerated for killing the first lady's favorite pet. In truth Pep was donated to the prison by governor Gifford Pinchot to improve morale; he was transferred to nearby Graterford Penitentiary in 1929.
Pep's example was followed by Lady, a beagle who belonged to the captain of the prison's guards. She posed for the second picture in 1957.
In American Notes, Dickens recalled that one inmate at Eastern State kept a rabbit in his cell; others kept birds and cats. And the prison was later home to Al Capone, who had some unusual quarters of his own.