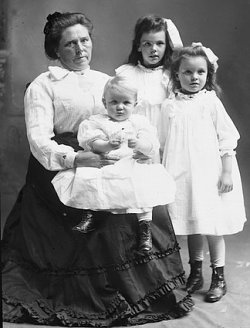 In 1902, 42-year-old Norwegian emigrant Belle Gunness bought an Indiana farm with $8,500 in insurance money she'd received when her husband and two children died. A second husband died after only nine months, and over the next six years a succession of prosperous suitors visited her farm and failed to return.
When the brother of one of these men grew suspicious, the farmhouse suddenly burned to the ground in April 1908. Firemen discovered the remains of four people stacked in the cellar: Three were Gunness' children, but the fourth — an adult woman — was unidentifiable because its head was missing.
Investigation began to turn up butchered corpses buried around the property. Under questioning, farmhand Ray Lamphere said that Gunness would lure her victims to the farmhouse, drug them, kill them with an ax, and bury them in the hog pen or around the grounds.
It's estimated that Gunness killed more than 40 people, making her one of America's most prolific serial killers of either sex. Curiously, her own fate is uncertain — officially she was declared dead, but neighbors insisted the headless remains could not have been hers. Lamphere claimed she had staged her own death and absconded with $100,000 in stolen money. He may be right — there's not enough surviving DNA to decide for certain.