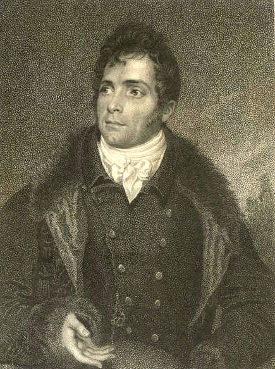 Robert Coates (1772-1848) achieved his dream of becoming a famous actor. Unfortunately, he was famous for being bad — like William McGonagall, Coates was so transcendently, world-bestridingly awful at his chosen craft that he attracted throngs of jeering onlookers.
In one performance of Romeo and Juliet, when he gave his exit line, "O, let us hence; I stand on sudden haste," his diamond-spangled costume dropped a buckle and he began to hunt for it on hands and knees. "Come off, come off!" hissed the stage manager. "I will as soon as I have found my buckle," he replied.
And that was a good night. He regularly improvised his lines; he took snuff during Juliet's speeches and shared it with the audience; he tried to break into the Capulet tomb with a crowbar; he was pelted with carrots and oranges; he dragged Juliet from the tomb "like a sack of potatoes"; and he died on request, several times a night, always first sweeping the stage with his handkerchief. ("You may laugh," he told one audience, "but I do not intend to soil my nice new velvet dress upon these dirty boards.")
Once, having been killed in a stage duel, he overheard one woman wonder whether his diamonds were real. He sat up, bowed to her, said, "I can assure you, madam, on my word and honor they are," and died again.