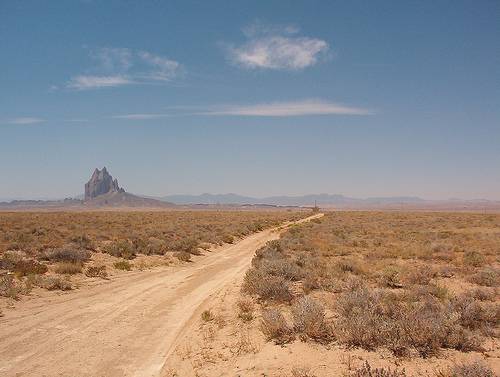 In 1860, the Times of Fort Smith, Ark., published a long account of a discovery said to have been made 90 miles northeast of Fort Stanton, N.M. This condensed version appeared in the Eclectic Magazine that November:
The plain upon which lie the massive relics of gorgeous temples and magnificent halls, slopes gradually towards the river Pecos, and is very fertile, crossed by a gurgling stream of purest water that not only sustains a rich vegetation, but perhaps furnishes with this necessary element the thousands who once inhabited this present wilderness. The city was probably built by a warlike race, as it is quadrangular and arranged with skill to afford the highest protection against an exterior foe, many of the buildings on the outer line being pierced with loopholes, as though calculated for the use of weapons. Several of the buildings are of vast size, and built of massive blocks of a dark granite rock which could only have been wrought to their present condition by a vast amount of labor. There are the ruins of three noble edifices, each presenting a front of three hundred feet, made of ponderous blocks of stone, and the dilapidated walls are even now thirty-five feet high. There are no partitions in the area of the middle (supposed) temple, so that the room must have been vast; and there are also carvings in bass relief and fresco work. Appearances justify the conclusion that these silent ruins could once boast of halls as gorgeously decorated by the artist's hand as those of Thebes and Palmyra. The buildings are all loopholed on each side, much resembling that found in the old feudal castles of Europe, designed for the use of archers. The blocks of which these edifices are composed, are cemented together by a species of mortar of a bituminous character, which has such tenacity that vast masses of wall have fallen down without the blocks being detached by the shock.
No one has ever found such ruins … but there's a ship out there too if you want to go looking.