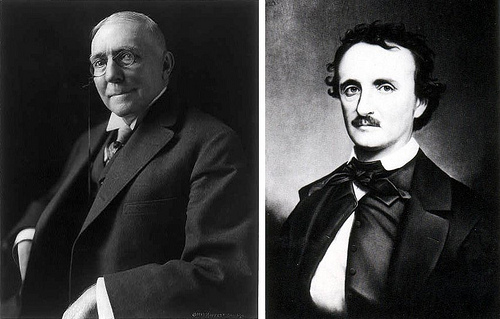 Convinced that the public would accept anything from an established author, James Whitcomb Riley bet his friends that he could prove it. He composed a poem entitled "Leonanie" in the style of Edgar Allan Poe and published it in the Kokomo, Ind., Despatch on Aug. 2, 1877:
Leonanie–angels named her;
And they took the light
Of the laughing stars and framed her
In a smile of white;
And they made her hair of gloomy
Midnight, and her eyes of bloomy
Moonshine, and they brought her to me
In the solemn night.
And so on. An accompanying article explained that the poem had been discovered on the blank flyleaf of an old book, and the conspirators scribbled it into a dictionary in case anyone asked to see it.
After the poem was published, Riley wrote a critique in the Anderson Democrat casting doubt on Poe's authorship. But to his horror his poem was championed by critics and picked up in newspapers nationwide, and soon a Boston publishing house began asking for the original manuscript. The group finally confessed when a rival paper threatened to expose the hoax.
Riley won his bet, but ironically he went on to become a bestselling poet himself, writing in an Indiana dialect distinctive enough to invite lampoons of its own. Whether any of these has been passed off as real is unknown — but it would be poetic justice.