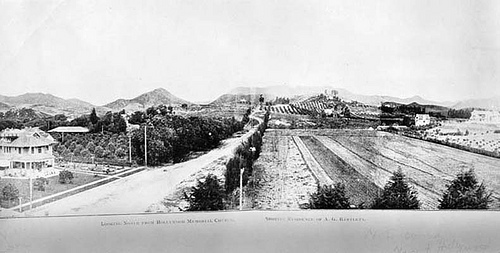 That's the intersection of Hollywood and Vine in 1906.
Seven years after this photo was taken, Cecil B. DeMille was searching for a western location to film The Squaw Man. He sent this telegram to his New York partners:
FLAGSTAFF NO GOOD FOR OUR PURPOSE. HAVE PROCEEDED TO CALIFORNIA. WANT AUTHORITY TO RENT BARN IN PLACE CALLED HOLLYWOOD FOR $75 A MONTH.
Sam Goldwyn responded:
AUTHORIZE YOU TO RENT BARN BUT ON MONTH-TO-MONTH BASIS. DON'T MAKE ANY LONG COMMITMENT.
Years later Marilyn Monroe would write, "Hollywood's a place where they'll pay you a thousand dollars for a kiss and fifty cents for your soul."