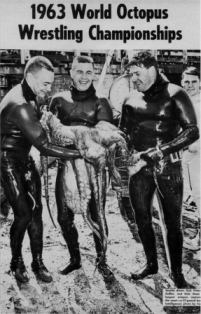 Man's greatest curse, it seems, is that he is easily bored. In the 1960s, a novelty-starved Washington state televised the World Octopus Wrestling Championships, in which each contestant would dive into Puget Sound, grab a North Pacific giant octopus, and try to haul it to the surface.
This would be difficult even for a real wrestler; H. Allen Smith pointed out that "it is impossible for a man with two arms to apply a full nelson on an octopus," much less to apply a crotch hold on an opponent with eight crotches. Plus the giant octopus can grow to 90 pounds.
But nothing can stop a fad. In April 1963, 5,000 spectators watched 111 divers draw 25 surprised octopuses pointlessly out of the sound, after which the creatures were released, eaten, or donated to a local aquarium. The octopuses had no comment; perhaps they're planning a comeback match.