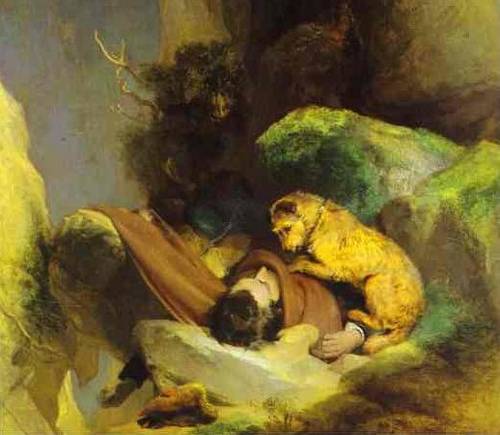 On April 17, 1805, artist Charles Gough set out to walk over Helvellyn, a mountain in England's Lake District, with his dog, Foxie. He never returned. Three months later, on July 27, a shepherd heard barking high on the mountain's flank, at about 2,300 feet, and discovered Foxie beside her master's body.
It appeared that Gough had fallen to his death, and the dog had remained by his side for three months. How she had survived up there remains a mystery — she had even borne a puppy, which was found dead in a burrow dug into the mountainside. The episode captured the Romantic imagination, and Wordsworth, Edwin Landseer, and Walter Scott all paid tribute to Foxie's loyalty:
How long did'st thou think that his silence was slumber!
When the wind waved his garment how oft did'st thou start!
But I can find no record of what became of her.
Bonus dog-loyalty-overtime stories: New Mexico, Montana, Tokyo.