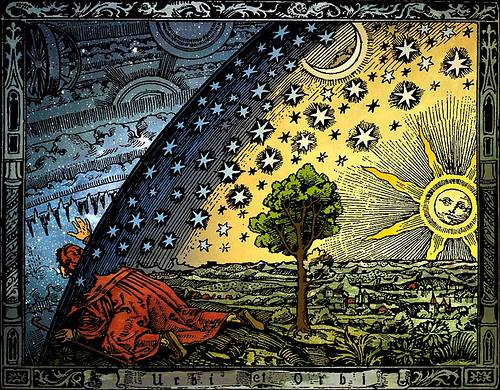 This is the Flammarion woodcut, so named because it first appeared in Camille Flammarion's 1888 book L'Atmosphère. No one knows who created it; it's thought to depict a medieval pilgrim who discovers the point where earth and sky meet.
Flammarion's book itself seemed touched by magic. As the astronomer was completing a chapter on the force of the wind, a sudden gale blew the last few pages out the window and off in a whirlwind among the trees. Then a downpour started, and Flammarion gave them up as lost.
He was astonished, then, a few days later when his printer delivered the full chapter, with no pages missing.
It seems the porter who normally brought Flammarion's proof sheets had been returning to his office when he noticed the sodden manuscript leaves on the ground. He assumed that he himself had dropped them and so had collected them and carried them to the printer without telling anyone.
"Remember," Flammarion writes, "it was a chapter on the strange doings of the wind."