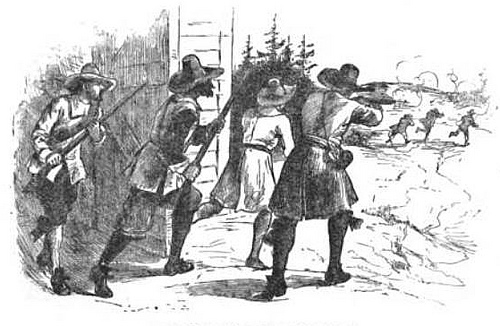 Arriving home late one summer night in 1692, Ebenezer Babson surprised two men leaving his house in Cape Ann, Mass. As they fled, he heard one say to the other, "The man of the house is now come, else we might have taken the house."
Babson removed his family to a nearby garrison, which by several bizarre accounts was then besieged for two weeks by phantoms dressed as gentlemen, in white waistcoats and breeches. Appearing in groups as large as 11, the "unaccountable troublers" reportedly spoke in a strange tongue, performed incantations, threw stones, beat upon barns with clubs, and made their way through a nearby swamp without leaving tracks. On each sortie from the garrison, they melted into the wilderness, sometimes arising after felled by gunfire.
The siege ended after a fortnight, apparently when the demons tired of their sport. This was the year of the Salem witch hysteria, and it's likely that pranksters were involved in the later events. But Babson's curiously specific account does leave questions about his own experience.