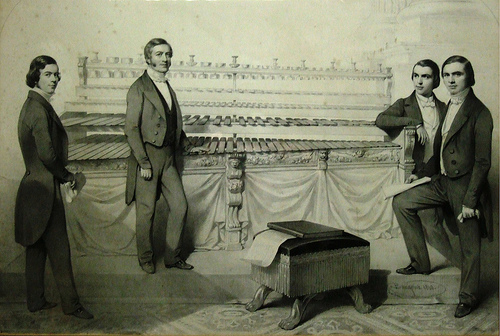 In 1827, Keswick stonemason Joseph Richardson noticed that certain rocks in Britain's Lake District gave a pure, ringing tone. After 13 years of effort he produced a lithophone, an arrangement of tiered rocks that one struck with mallets, and he took it on a three-year concert tour through Northern England.
It's not clear what it sounded like: Richardson and his three sons played Mozart, Beethoven, and Handel, reportedly achieving different effects by striking the stones in different ways. An 1846 newspaper account says the tone varied from the warble of a lark to the bass of a funeral bell. Richardson called it "the resource of a shipwrecked Mozart."
By 1848 they were performing for the queen and traveling to France, Germany, and Italy. On the eve of a trip to America, though, the youngest son died of pneumonia, and the band retired. Richardson's great-grandson donated the instrument to a museum in 1917.