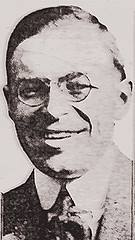 On Nov. 11, 1918, 47-year-old Harry H. Gardiner opened an insurance policy with the Bank of Hamilton in Ontario.
That wouldn't be big news, except for the circumstances: He was clinging to the outside of the building at the time, and sticking his head in through one of the open windows.
Gardiner had been a professional "human fly" since 1905, climbing more than 700 buildings throughout Europe and North America, using no special equipment and usually wearing ordinary street clothes.
His other conquests included Detroit's 12-story Majestic Building (1916, wearing tennis shoes); the 16-story Empire Building in Birmingham, Ala. (1917); and Vancouver's 17-story World Building (now the Sun Tower) (1918), home of the Vancouver World.
Gardiner must have been glad to get the policy. History doesn't record how he died … which probably isn't good.
06/01/2018 Yikes, it sure wasn't. (Thanks, Ben.)