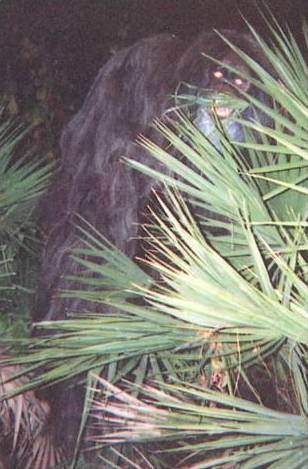 The skunk ape is Florida's answer to Bigfoot, a large primate that reportedly lives east of Interstate 75, near Myakka River State Park.
In December 2000, an anonymous writer mailed two photographs and a letter to the Sarasota sheriff's department. "Is someone missing an orangutan?" she asked, identifying herself as a grandmother who had taken the photos when she found the beast stealing apples from her backyard. "It is hard to judge from the photos how big this orangutan really is. … I judge it as being about six and a half to seven feet tall in a kneeling position. … It had an awful smell that lasted well after it had left my yard. The orangutan was making deep 'woomp' noises."
That's a bit hard to swallow. If the skunk ape is 7 feet tall kneeling then it must be nearly 10 feet tall standing. The largest male orangutans are 4 feet 5 inches. The letter writer says she was standing within 10 feet of the monster when it stood up ("an animal this big could hurt someone seriously"), but she stood there anyway and took a second picture. And why send an anonymous typewritten letter?
There have been other "sightings" since this one, but of course no evidence. Nice photos, though.