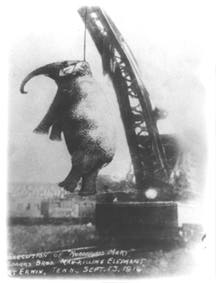 1916 came to a black end for Sparks World Famous Shows, a circus that was traveling through the American South. In Kingsport, Tenn., an amateur trainer named Red Eldridge was leading a 5-ton Asian elephant to a local pond when she stopped to nibble a watermelon rind. He grew impatient and prodded her behind the ear. She flung him against a drink stand and stepped on his head.
What followed can only be described as a lynching. A crowd began to chant, "Kill the elephant!" A local blacksmith fired two dozen rounds into Mary, with little effect. The local sheriff impounded her, newspapers reported (falsely) that she had killed several workers in the past, and nearby towns threatened to boycott the show. By most accounts Mary had calmed down after killing Eldridge, but that didn't seem to matter.
So on Sept. 13, owner Charlie Sparks took Mary to a local railroad yard and hanged her from an industrial crane in front of 2,500 people, including most of the town's children. The chain snapped on the first attempt, causing Mary to fall and break her hip. The second attempt killed her, and she was buried beside the tracks.
"Cruelty, like every other vice, requires no motive outside of itself," wrote George Eliot. "It only requires opportunity."