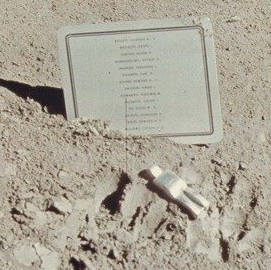 There's only one piece of art on the moon: Fallen Astronaut, an 8.5-cm aluminum sculpture of an astronaut in a spacesuit. It's meant to honor astronauts and cosmonauts who died furthering space exploration … but it's also a testament to the almost limitless patience of its creator.
Belgian artist Paul Van Hoeydonck agreed to the project after meeting astronaut David Scott at a dinner party. Making art for the moon is pretty demanding in itself — it has to be lightweight, sturdy, and tolerant of temperature extremes. But NASA also said the figure couldn't be identifiably male or female, nor of any identifiable ethnic group. On top of that, because Scott wanted to avoid the commercialization of space, they didn't want to make Van Hoeydonck's name public.
The artist agreed to all this, and in 1971 Apollo 15 put Fallen Astronaut on the moon, along with a plaque listing 14 fallen space explorers. Van Hoeydonck even agreed to create a replica for the National Air and Space Museum "with good taste and without publicity."
But he finally balked when Scott tried to talk him out of selling 950 signed replicas for $750 apiece at New York's Waddell Gallery in 1972. A guy's got to make a living.