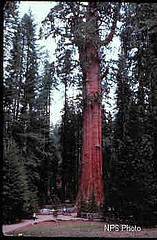 What's the largest living thing in the world? It depends:
Savannah elephants get up to 26,400 pounds, and of course some land dinosaurs were far larger.
In the ocean, the blue whale can reach 100 feet and weigh 150 tons. It's thought to be the largest animal that's ever lived.
There's a fungus in Oregon's Malheur National Forest that fills 2,200 acres, but technically it's not one individual organism.
Likewise, there are some stands of aspens that grow from one gigantic root system. One covers 200 acres and weighs an estimated 6,600 tons.
Australia's Great Barrier Reef stretches for 2000 kilometers — it's not a single creature, but it's certainly the world's largest "superorganism."
The overall winning candidate is probably this tree, California's "General Sherman." It's 274 feet tall and 36 feet thick at the base, with a trunk volume of 1,487 cubic meters.
The largest bacterium ever discovered, by the way, is Thiomargarita namibiensis — it grows to 0.75 mm in diameter, which means you can see it with the naked eye. Eww.