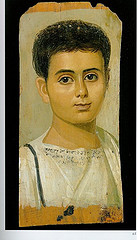 This is Eutyches, a young boy who died in Egypt during the Roman Empire. How do we know this? Because this portrait was stuffed inside his mummy.
This was actually a common practice in the Fayum region of ancient Egypt, and it's given us some of the best-preserved paintings from ancient times.
Artists would paint the portraits on wooden panels, using hot, pigmented wax, and they've survived remarkably well in the region's dry heat.
CAT scans show that the portraits match their mummies in age and sex, and they're strikingly naturalistic, though reportedly a little formulaic.
Many, like Eutyches, were children, a sad mark of the era's low life expectancy.