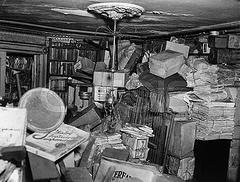 If you think you're a packrat — cheer up.
In 1929, brothers Homer and Langley Collyer holed up in a Harlem townhouse and basically set the all-time record for reclusive hoarding. They kept to the house during the day, and at night Langley fetched their water from a park four blocks away, dragging home abandoned junk.
In 1942, when they missed a mortgage payment, the police investigated but couldn't get past a solid wall of junk behind the front door. In 1947, when rumors surfaced that Homer had died, a team of seven men finally began excavating the foyer, which was choked with old newspapers, folding beds and chairs, half a sewing machine, boxes and parts of a wine press. A patrolman broke into the second floor and spent two hours crawling through packages and newspaper bundles before he discovered Homer, dead in a bathrobe, his head on his knees. The recluse had been dead only 10 hours, so the smell was coming from somewhere else.
Authorities began unpacking the house. Among other things, they found baby carriages, rusted bicycles, a collection of guns, gas chandeliers, the folding top of a horsedrawn carriage, three dressmaking dummies, a kerosene stove, thousands of books about medicine and engineering, human organs pickled in jars, a clavichord, two organs, the chassis of an old Model T, a horse's jawbone, an early X-ray machine, and more than six tons of newspapers, magazines, and wood. After several weeks of searching, they found Langley 10 feet from his brother. He had been crushed in one of his own booby traps.
In total, police and workmen took 136 tons of garbage out of the house, including 14 pianos and more than 25,000 books. It was eventually torn down as a fire hazard.