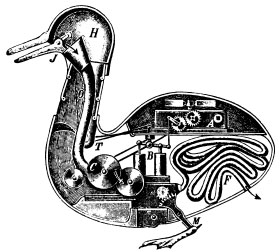 Vaucanson's Shitting Duck was one of the more unsavory products of the French Enlightenment.
When it was unveiled by Jacques de Vaucanson in 1739, thousands watched the "canard digérateur" stretch its neck to eat grain from a hand. The food then dissolved, "the matter digested in the stomach being conducted by tubes, as in an animal by its bowels, into the anus, where there is a sphincter which permits it to be released." These inner workings were all proudly displayed, "though some ladies preferred to see them decently covered."
Why make fake duck shit when the world is so well supplied with the real thing? It was part of the Enlightenment's transition from a naturalistic to a mechanical worldview. Suddenly a duck was not a God-given miracle but a machine made of meat, and complex automatons carried the promise of mechanized labor, stirring a cultural revolution.
Goethe mentioned Vaucanson's automata in his diary, and Sir David Brewster called the duck "perhaps the most wonderful piece of mechanism ever made." Sadly, the whole thing was a fake: The droppings were prefabricated and hidden in a separate compartment. Back to the drawing board.