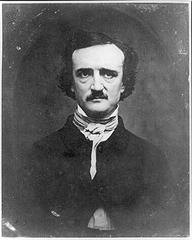 What killed Edgar Allan Poe?
On Oct. 3, 1849, Poe was found on the streets of Baltimore, delirious and wearing clothes that were not his own. The man who found him said he was "in great distress, and … in need of immediate assistance." He remained incoherent and died four days later. He was only 40.
An acquaintance said it was drunkenness, but he turned out to be a supporter of the temperance movement who distorted the facts. The attending physician wrote that "Edgar Allan Poe did not die under the effect of any intoxicant, nor was the smell of liquor upon his breath or person."
Well, what, then? Other theories include a rare brain disease, diabetes, enzyme deficiency, syphilis, even rabies. Some people think Poe was accosted, drugged, and used as a pawn in a plot to stuff ballot boxes that day.
There's no surviving death certificate, so we'll never really know. Today Poe lies in the churchyard at Westminster Presbyterian Church in Baltimore, where mystery follows him even in death: Every year since 1949, the grave has been visited by a mystery man in the early hours of the poet's birthday, Jan. 19. Dressed in black and carrying a silver-tipped cane, the "Poe Toaster" kneels at the grave and makes a toast with Martel cognac. He leaves behind the half-empty bottle and three red roses.